LORI HABER BUCKFIRE PRODUCTS/ARTWORK
BY PURCHASING THESE PRODUCTS, YOU ARE SUPPORTING PLANET LORI ART CAMP, OVARIAN CANCER RESEARCH AND EDUCATION, AND BRCA GENE AWARENESS
"Best of Times" hardcover, leather-bound book, over 300 pages; Collector's Edition – only 1000 printed
The Best of Times is the inspirational story of Lori Haber Buckfire. Written in her own words through emails and her blog, and illustrated with her own artwork and personal photographs, Lori's story begins shortly after diagnosis of ovarian cancer in May 2005 – eight weeks after the birth of her son Hayden – and ends with her passing in July 2010. Despite her long battle with cancer, Lori did not let her illness diminish her zest for life or her ability to live in the moment. Each struggle filled with pain and fear was answered by joy, hope, courage, and the will to make every good moment last.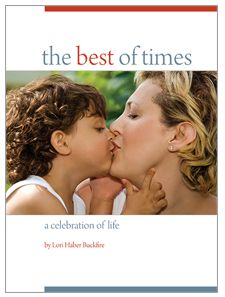 If you would like to purchase a product or make a donation, please click the appropriate button below.
18" x 24"
posters

of original artwork by Lori Haber Buckfire

Click on image to view larger version.
Tax Exempt Status
The foundation has been approved for tax-exempt status under Section 501(c)(3) of the Internal Revenue Service Code. A donation to the foundation is 100% tax deductible as provided by law less the value of any product purchased.